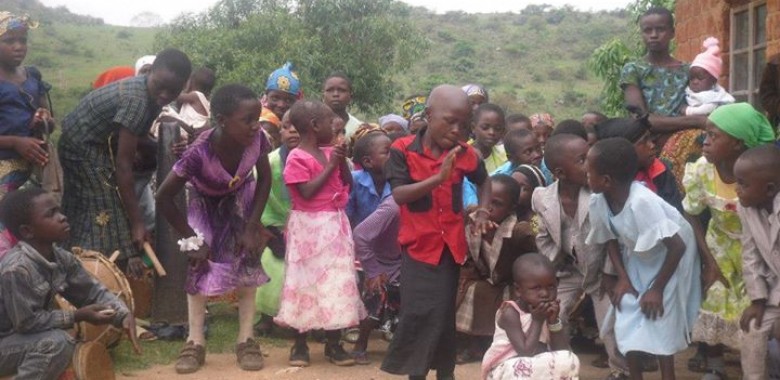 Celebrate Giving Tuesday with the People of Mbokop
Each time  the EWB-DC team arrives in Mbokop, we have been greeted with overwhelming enthusiasm. We arrive late at night to crowds of people dancing, singing, cheering, crying, and celebrating our arrival. One team member who traveled to the community in November 2013 trip said she was stuck by the community's generosity. She experienced "people who had so little, but were willing to share so much." This year, we are hoping to send three trips of volunteers to experience the generosity, enthusiasm, and dedication of the Mbokop community!
To complete the implementation of the water system, we need to raise over $40,000 to cover travel, labor, water system materials, tools/equipment, and food for three implementation trips. Our first construction trip is right around the corner, in January 2015! The next two trips are tentatively scheduled for March 2015 and fall 2015.
The EWB-DC team is made up volunteers who spend their evenings and often their weekends, their vacation time and holidays working on this project. They develop designs, operation and maintenance manuals, health education activities, assessment surveys, analyze data in GIS and data softwares, and learn to cut rebar and mix concrete. Our team includes engineers, geologists, researchers, graduate students, fitness instructors, and various other professionals. What connects these individuals is their dedication to bring improved quality drinking water to a community thousands of miles away. As one team member says, "I think it's important to help people in whatever way you can. This is my way of doing that."
This project has given our team rare opportunities. For one of our previous travelers, this project has given her  "a life changing experience to use my professional skills to directly impact the quality of life of a community across the world." Today, for #GivingTuesday, join us in giving back to a community who has given us so much.
There are multiple ways to help support the project:
Donate to the project to support one of the upcoming implementation trips
Shop on Amazon this holiday season (and always) with us! Use this link and 6% will be donated to the EWB-DC Cameroon project  at no additional cost.
Join us at Sign of the Whale (1825 M Street NW DC) Thursday, December 18th from 6-9 PM for our holiday happy hour fundraiser!
Buy a water bottle or t-shirt:

Order a t-shirt by 12/9
Our partners at Colesville Presbyterian Church  selling bottles water bottles with their "Every Drop Counts" logo for $15 a piece. More than half of each purchase goes to bringing clean water to Mbokop. If you're interested in purchasing a water bottle, please email Cameroon@ewb-dc.org. We greatly appreciate everything Colesville has done to support our project. They have provided technical guidance on the design drawings, leadership in construction trainings, and vast support with fundraising. Thank you, Colesville!
Thank you for joining us on Giving Tuesday!