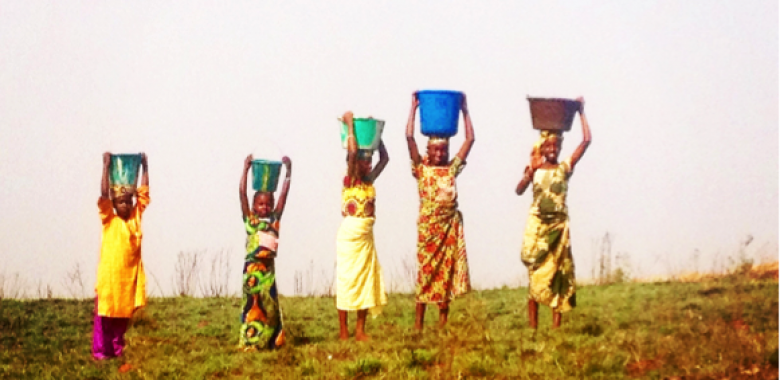 Cameroon Project-Implementation Trip II
"We Are Together"  
By Ashley Johnson
From the grass plains of the Northwest, to the desert of the Far North to the lush forests of the Littoral, the beautiful lands of Cameroon are where I feel at home. It wasn't just the beauty of this diverse country that captured my heart; it was the people. After spending years as a Peace Corps Volunteer in Cameroon, I had developed family, family whose connections run as deep as the one I was born into here in America. The day I left Cameroon in 2011, I felt a piece of me was being left behind always to remain in the verdant jungle of my village. I dreamed of the day I would get to return, but I promised myself I wouldn't go back until I could bring something of tangible benefit to a country that meant so much to me.
The opportunity arose when I began volunteering with the EWB Washington, D.C. chapter this past fall on the water project based in Northwest, Cameroon. I was invited to join the team of 4 EWB team members who traveled to Mbokop for implementation trip II in March.
Implementation Trip II Team: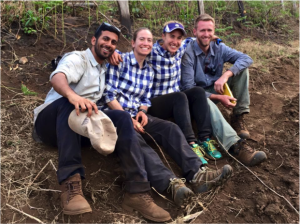 (from left to right) Harry Ramnath, Angeline Cione, Ashley Johnson and Jonathon Mead
I knew the moment our van arrived in Mangi, a hilltop settlement of Mbokop, that I was embarking on a journey that was going to expand my already large Cameroonian family. Over the course of the next two weeks Harry, Angeline, Jonathon and I, worked alongside some incredible individuals digging trenches, laying piping, building break pressure tanks and leading education sessions on health, hygiene and sanitation. The individuals we worked with are everyday heroes for their community, passionate about improving the lives of those around them. Together we are working on fulfilling the community's goal of providing Mbokop with a sustainable, clean water supply.
Meet a few of the everyday heroes whose efforts contributed greatly to our team throughout the trip: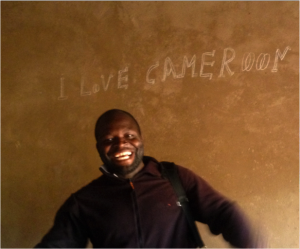 Pastor Julius is a dynamic, energetic community leader who has been involved since day 1 on the project. During our time in Mbokop, Pastor could always be found with a smile on his face. His work with the team on trenching and laying the pipe while also focusing on community relations and communication with key local leaders were essential to our team's success.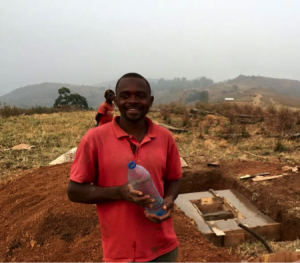 Divine is EWB's construction manager. During Implementation Trip II, Divine's management of the construction of two break pressure tanks was vital to the project's progression. His story telling and singing abilities kept his entire team and the volunteers laughing throughout the workdays.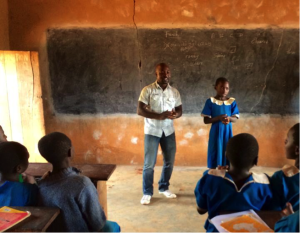 Rene is a community health educator with HEDECS, one of EWB's local NGO partners. Rene, is a gifted animator and educator, he used his immense talents working side by side with EWB's health and hygiene education team, leading training sessions at the government schools, the local Islamic school and with the village's community health team. When Rene was not leading education sessions he was in the trenches with a pick ax, assisting with the construction.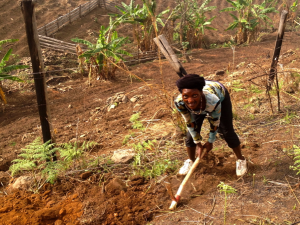 Winifred's work ethic and genuine caring spirit never cease to amaze our entire team. Winifred could be found daily assisting the team with any task necessary. She not only put in tremendous effort at the construction site, but also often prepared lunch for the entire crew of volunteers and construction workers.
Women from the Mbororo tribe were standout contributors to the efforts of implementation trip II. Each day they would show up beautifully dressed, prepared to assist in any manner. You could often find the team of elegantly dressed women climbing the slope up to the catchment area, filling buckets of sand and returning ever so gracefully back down the slope, buckets resting effortlessly on their heads, to bring sand to the construction team.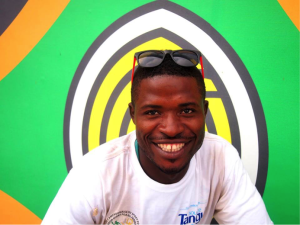 Bakari, is my "brother" from the village where I was a Peace Corps Volunteer. When he learned about our EWB project in Mbokop, he selflessly boarded a bus from the East region of Cameroon and traveled nearly 3 days to join our team and help in any way. His giving spirit, tremendous work ethic, and MacGyver-like ability to create pick axes in the wilderness were invaluable to our team.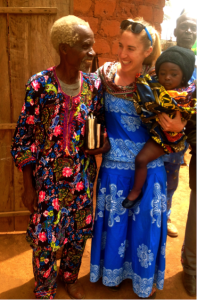 Pa is the soul of Mangi, the wise father, pastor and friend to all whose laughter is filled with a genuine love of life. Pa has opened up his family's home to several EWB travel teams and truly welcomes each member in as though we were his own children. On the last night in Pa's home, sitting in his regular evening fireside seat, Pa said, "You are leaving us tomorrow, but your spirits will remain with us."
Without the efforts of each of these outstanding individuals implementation trip II would not have progressed as it did. As our time alongside of our team in Mbokop came to a close and the van pulled out of Mangi, the words of Pa rang in my ears once more, "your spirits are here with us." Long after we are gone from the community we are still bound by the common goal of providing the small vibrant community with a reliable water source. While our EWB team is stateside fundraising, designing and strategizing for the success of the project, we have a team of collaborators working tirelessly in village continuing the work. Until next time, as we say in Cameroon, "we are together."