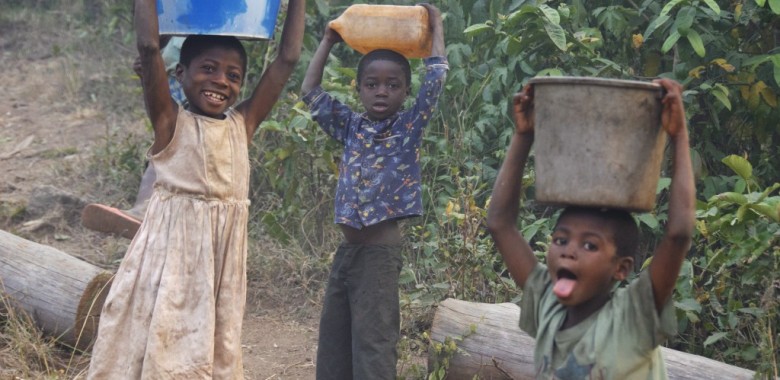 The Cameroon Team is Heading Back to Mbokop!
November 1, 2015

Created By:

Categories:

Tags:
In three weeks, the EWB-DC Cameroon team will be heading back to Mbokop! This is the team's fifth trip to Mbokop since beginning the project. In 2013, EWB-DC sent two assessment trips to Mbokop, Cameroon to begin working with the rural community to establish a water and health program. In early 2015, two implementation trips begin to implement a gravity-fed water distribution system to one of the five Mbokop settlements called Mangi.
Traveling on this trip are two team members who have not traveled to Mbokop previously, Gabe and Briana, and two previous travelers, Lauren and me (Rachel).
Gabe and Lauren will be focusing on implementation and technical assessment activities.
Gabe, who is the trip mentor, is a "big-time Dodger fan" who was born and raised in Los Angeles, California. He received his BS in Environmental Engineering from the California Polytechnic State University in San Luis Obispo and received his Professional Engineer's license for DC in May 2015. Gabe is currently serving as the Environmental Manager on a $150-million heavy-civil tunnel construction project in Washington, DC. He joined EWB as an opportunity to utilize technical skills he's developed "to provide for people and communities in desperate need of basic commodities." Gabe is also a novice juggler and still has aspirations of becoming an astronaut.
Lauren, who traveled on the second assessment trip in November 2013, joined EWB "because it allows me to volunteer while using my engineering skills in a meaningful way." Outside of EWB, Lauren loves to cook, go to Penn State football games, and snowboard in Steamboat. Lauren has a BS in civil/environmental engineering from Penn State and an MS in environmental science and policy from Johns Hopkins. She has lived in DC since 2007 and works for an environmental consulting firm.
I'm also looking forward to traveling on this trip as the trip lead. I joined EWB-DC in 2012 and traveled on the first and second trips both Mbokop. On both of these assessment trips I lead the public health assessment activities including interviews and focus groups. I'm looking forward to going back to Mbokop after almost two years to see the community and the implementation progress. I joined EWB-DC while getting my Master's in Public Health in Global Health Policy.
Briana is traveling as the lead Health and Safety Officer. She joined EWB while in college and "became passionate about the mission of EWB to help those in need in a sustainable way." She is most excited to meet the members of the community and learn more about them.  Briana, who recently ran her first marathon, is from a small town about a half an hour outside of Mobile, Alabama. She is a graduate of Auburn University, is avid fan of Auburn Football, and an alumni of the Auburn University Marching Band. She is currently working towards her Master's in Chemical Engineering.
Briana and I will be focusing on community engagement and capacity building.
We will once again be joined by in-country partners from NGOs. We are looking forward to two weeks that will focus efforts on aspects that will drive the sustainability of the system and seeing new and familiar faces. If you'd like to contribute to the project, click here. We'll update the blog every few days during the trip to keep you posted on the team's progress!