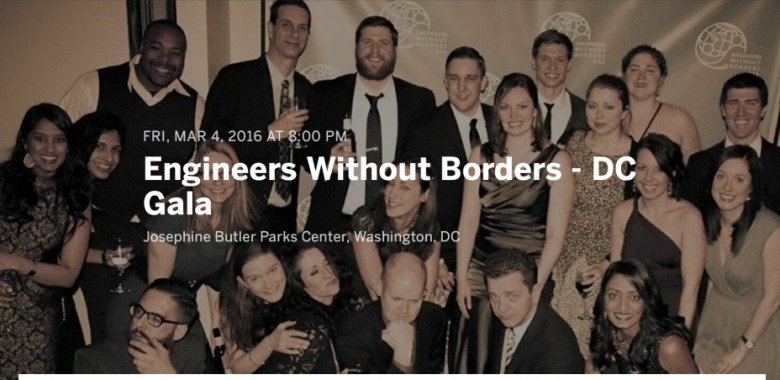 Tickets on Sale Now! EWB-DC 2nd Annual Spring Gala
January 10, 2016

Created By:

Categories:
Tickets are now on sale for the Engineers Without Borders, DC Chapter's Spring Gala!
Tickets are now on sale for the Engineers Without Borders, DC Chapter's Spring Gala on Friday, March 4, 2016  from 8:00pm to 11:00pm at the Josephine Butler Parks Center at 2437 15th St NW, Washington, DC 20009.
Enjoy views overlooking Meridian Hill Park in this 18,000 sq-ft, 40-room Renaissance-revival style mansion while dining on the delectable offerings of Eat & Smile Catering.  The 21 and over, semi-formal event will include dancing, an open bar with a selection of beer and wine, as well as a silent auction.  
Featured auction items include beautiful handicrafts from Cameroon and Panama brought back by EWB-DC volunteers and gift certificates from local businesses, hotels, wineries and restaurants. This memorable evening will once again be captured by Brain Adrian Photography.
Photos from last year's gala can be found here. 
The proceeds from this event will go towards building sustainable infrastructure in Cameroon, El Salvador, and Panama. Guests will learn about the major project milestones from the past year.  
Ticket Prices-
January 10 to February 12: $65 (Pre-sale)
February 13 to February 28: $75 (Early Bird)
February 29 to March 3: $85 (Standard)
To purchase tickets please visit our Eventbrite page.  
Engineers Without Borders is a non-profit humanitarian organization which partners with disadvantaged communities to improve their quality of life through environmentally and economically sustainable engineering projects.  
For more information regarding the event please contact the event lead, Meghal Patel (mpatel.ewb@gmail.com).
Please note that all ticket sales are final.