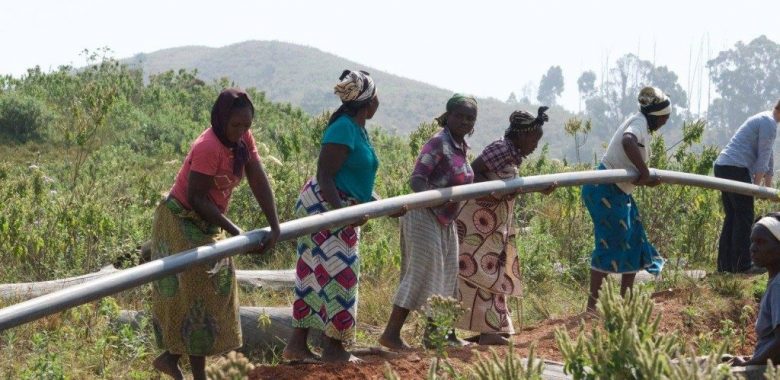 Construction Continues in Cameroon
January 26, 2017

Created By:

Categories:
On January 28, EWB-DC will be saying bon voyage to four friends as they begin the (long) journey to the Northwest Region of Cameroon. This is the seventh EWB-DC group to travel to Mbokop…we just can't get enough! Gabe Illingworth and Aileen Craig are returning to the community as veteran travelers while Eric Tilden and Kim Fellenz will be experiencing Cameroon for the first time. During this trip, the team will be engaging with the community, installing pipeline, and beginning construction on the water storage tank.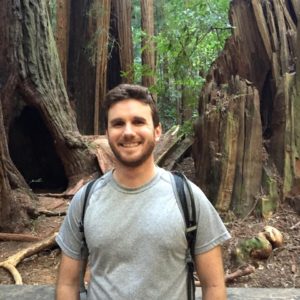 Eric Tilden
Eric is a licensed professional engineer and originally joined the EWB Sonoma County Professional Chapter, where he was involved in a project in Peru. He's been hooked ever since, and as soon as he moved to DC became actively involved in this chapter. At night, Eric volunteers as an EWB-DC Cameroon Team Project Lead, and during the day is a Program Manager of Sustainability and Green Building for the National Association of Home Builders. This will be Eric's first trip to Africa and he's excited to experience the Cameroonian culture. "I'm looking forward to meeting the community, and forming relationships with the people. I will be involved in Community Engagement, reaching out to local schools and community groups to ensure the project is a success not only once completed, but for years to come."
Fun factoid: "I'm colorblind, so don't be surprised if you see me in mismatched clothes."
Aileen Craig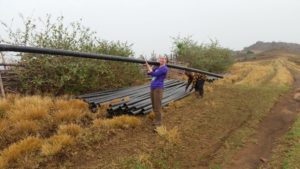 Aileen also serves as an EWB-DC Cameroon Team Project Lead and became active with EWB as a civil and environmental engineering student at Carnegie Mellon University (CMU). "Learning about EWB is one of the things that helped me decide to pursue environmental engineering at CMU, knowing that I could use my major to directly help others in a significant way, like helping those without access to clean water." Aileen is excited to return to Mbokop and see the community members (but less excited for the squat latrine)! She will primarily be involved in community engagement, which will give her the opportunity to travel to different settlements, work with the water committee, and visit the schools. Aileen will also serve as the team's health and safety officer.
Fun factoid: "Both Eric and I seem to have vision problems. He mentioned he was colorblind, my eyes naturally rest slightly outward making it harder for me to focus and have slower reaction time. Sports involving hand/eye coordination have never gone well for me due to this."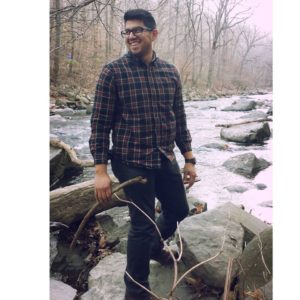 Gabe Illingworth
Gabe is a west coaster with a degree in environmental engineering. Gabe joined EWB "to provide for people and communities in desperate need of basic commodities." He loves good food and in addition to bringing his professional engineering skills to Mbokop, he is "traveling to get some more of Maxeline's (our local cook) 'puff puff' and coffee cake"….breakfast of champions before tank construction. When Gabe isn't chasing down his latest meal in far corners of the globe, he supports environmental compliance teams for large construction projects in DC. During this trip, Gabe will be focusing on the storage tank construction.
Fun factoid: In addition to being the trip mentor and health and safety officer, Gabe will also be the team's deejay, as his packing list includes a Bluetooth speaker and hot beats. A highlight of the last trip Gabe took to Mbokop was discovering the band P-Square.
Kim Fellenz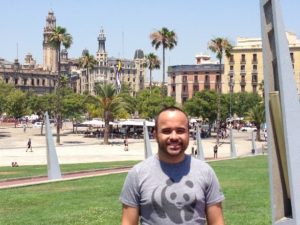 Kim joined EWB "because I wanted to do something to help others and EWB allows me to use my engineering skillset to do so." He has been involved with EWB since college where he earned a mechanical engineering degree. Kim has been actively involved in the Cameroon project for 3 years and can't wait to experience life in Mbokop firsthand! Pit latrines may come as a shock to Kim as he's never been camping before….you're in for a treat!!! During this trip Kim will focus on storage tank construction. Outside of EWB, Kim works in shipbuilding as a civilian mechanical engineer for the U.S. Navy.
Fun factoid: "I enjoy traveling and as part of that I hope to experience the great annual events around the world. I have been to Oktoberfest in Munich and celebrated Bastille Day in Paris. I hope to do more in the future."
"How can I help?"
EWB-DC has three active projects: one in Cameroon, one in Panama, and one in El-Salvador. All of our team members are volunteers who donate time, expertise, and energy after their jobs or days in classes. We are a mix of professionals and graduate students who came together to contribute various areas of expertise. Our efforts would not be possible without your support. Please consider donating to EWB-DC today to help contribute to our projects around the world. On behalf of our communities and hard-working volunteers, thank you for your support!