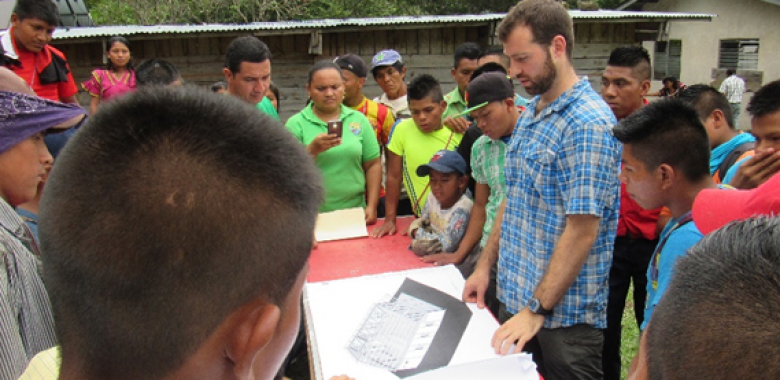 Panama Program Kicks Off Construction!
August 4, 2017

Created By:

Categories:

Tags:
It has been a busy summer for the Panama Program – after several years of partnering with the community of Hato Rincón we've kicked off construction on a library and computer center!
The community of Hato Rincón is located in the southern part of the Ngobe-Bugle (one of the most historically marginalized groups in Panama) territory and is home to approximately 1,600 residents. Although Rincón houses both a primary and secondary school, its students do not have the educational resources to compete on the national level.
For this reason, Rincón has been working to realize their dream of a local computer center and library. The community is well organized, hard-working, and motivated. Constructing a building is no easy feat – so their support and buy-in have been instrumental in making this a reality. To get as much work as possible done this summer, the Panama team coordinated a series of phased trips over the months of June – August to maximize progress we were able to make on the system. Under the guidance of our travel teams, the community has been working hard to assist with construction efforts.
In June, EWB – DC team members Tom and Joe kicked things off buying supplies, setting up a workshop in the community, laying out the site and excavating the footings. Craig's (who serves as the Lead/Mentor for the Mongtomery College EWB Student Chapter) trip continued working on the footings and began placing concrete. Andrew's team set the reinforcing for the footings and columns continued placing concrete.
By the time the last summer travel team arrives on Saturday (August 5) the footings should almost finished. Our final trip will wrap up the work for this phase, ensure the construction site is not a hazard, and get the block making for the walls underway.  Ricardo from our partner Health for Humanity (HEH) has been invaluable and spent his summer in Rincón assisting with construction efforts and organization. Without is help translating and explaining the work to the Community little progress would have been made!
The Community will continue to stockpile aggregate and produce the blocks in anticipation of the next series of construction trips.
We have a great kick-off to the construction of the library/tech center and the Community is excited and energized!
Our travel teams are working on reports and debriefings. Hold the following dates for debriefings by our travels teams and planning for next year!
August 24 and 31
September 14 and 21
We will begin this series of meetings at Catholic University and rotate the location convenient to the participating chapters.  Watch for details and room numbers after our return or contact us at panama@ewb-dc.org.