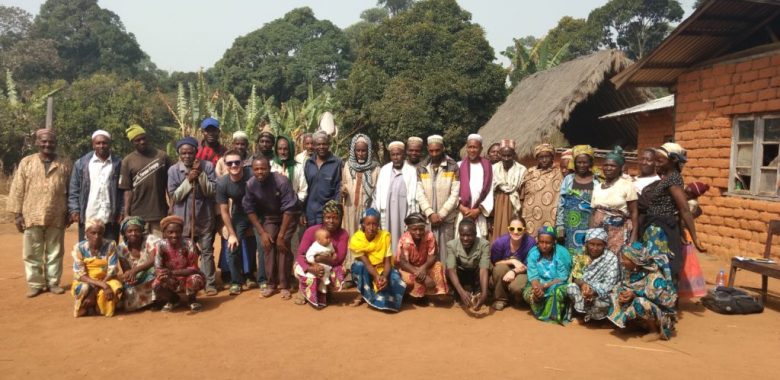 Cameroon Water & Health Project – Quarterly Update
You will always be in our hearts, Bill
We'd like to begin this quarterly update to the Cameroon Water and Health project with the unfortunate loss to the Cameroon project family. William "Bill" Johnston, a member of the Colesville Presbyterian Church (CPC) and devoted supporter of the Cameroon project has passed away.  He was a critical supporter to CPC's "Water of Life" program which helps support water-related projects, including our own, and a huge believer in our team and work in Cameroon. We are forever grateful to everything Bill has contributed, and this project was made possible thanks to him.
We send our love to his family during this time and are overwhelmingly grateful, as they continue to support our project by including it as a possible donation in his memory. We would also like to thank everyone who has donated to the project in memory of Bill.
Bill may no longer be with us today, but his efforts and love will live on for generations through each and every glass of clean water our community in Cameroon drinks every day.
HEDECS visited Mbokop
Our in-country partner, HEDECS, has recently traveled to the surrounding communities to provide us with an update on several project-related items. Among many other items, this involved completing an inspection of the water supply system, including the large water storage tank completed during the last EWB-DC trip to Cameroon.
HEDECS has observed the water storage tank overflow pipe has a steady stream of water, and is currently being utilized by the Mbokop community as a sustainable source of clean water. The system looks to be in good condition, with some minor items needing attention.  EWB-DC has analyzed the photos provided by HEDECS and is developing simple solutions for common maintenance requirements, such as cleaning out tanks.
O&M Manual Underway
During the last trip we constructed the water storage tank, a major achievement in the project timeline. The remaining portions of the project include building a pipeline to the local school and installing a tap stand, as well as building a pipeline to the town center and installing a tap stand.
With a large portion of the project physically constructed, we have begun the development of Operations & Maintenance (O&M) documentation for the water supply system.  This includes not only a detailed O&M manual for the system caretaker responsible for regular maintenance work, but also visual guides and instructional cards for both the community and caretaker. These visual guide will serve as Ikea-like instructions for a range of topics, including how the system works, how to clean it, and how to repair simple issues. They will include little written instructions, and will rely on using visual imagery to convey instructions so that individuals with little literacy can understand what is required.
"How can I help?"
EWB-DC has three active projects: one in Cameroon, one in Panama, and one in El-Salvador. All of our team members are volunteers who donate time, expertise, and energy after their jobs or days in classes. We are a mix of professionals and graduate students who came together to contribute various areas of expertise. Our efforts would not be possible without your support. Please consider donating to EWB-DC today to help contribute to our projects around the world. On behalf of our communities and hard-working volunteers, thank you for your support!