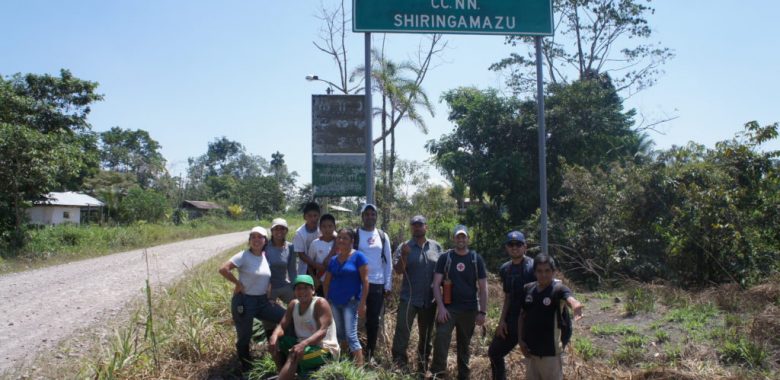 Team 2018 Peru's Post-Trip Blog
November 4, 2018

Created By:

Categories:
This past August, 6 volunteers, Gabe Illingworth, Sean Jones, Damien Salgado, Iliana Quintanilla, Sasha Rao, and Sana Hussain, traveled to the highlands of the Peruvian Amazon jungle to assess the remote community of Shiringamazú. This was the first trip of many for the newly formed Peru team.  The team had been ready and eager to meet the community and learn more about their needs.
Upon arrival to the Oxapampa Department of Peru, the team met with their in-country NGO partner, Reach Global. Reach Global was able to help accommodate the team and assist with any knowledge and information about the culture and area to prepare them before assessing the community.
Assessment Plan
Since this was EWB-DC's first trip to Shiringamazú, a major goal was also to establish trust with the community and determine common objectives for the project. The community had indicated that their greatest need is improved access to clean water. Other important issues to note were public health and education.
Once settled in, the team was introduced to the community with a community meeting and a brief celebration of the Yanesha culture. With little time on their hands, the team set out to undertake their assessment plan. The scope of work included 1) conducting focus groups and survey research, 2) gathering information, such as, community size and household numbers, location of water sources, existing resources, terrain and geography, 3) mapping the community, 4) determining feasible water solutions, and 5) consideration of a sustainable project.
Team members split up, each group tackling different portions of the plan.  They also spoke with the health ministry, the local municipality, a contractor, and visited nearby sites in the Nuevo Progresso and San Luis Water Boards.
Results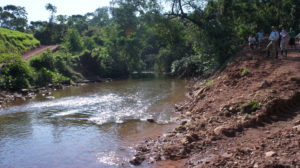 Focus groups and survey research, along with locating water sources were a critical part of the trip. This information was especially necessary to determine the feasibility of the overall project. The team spoke with many community members, families, and stopped at several households to gather the necessary information. Members of the community, largely, gave an urgency for the need of water and sanitation. Focus groups indicated many people frequently suffer from several illnesses, especially that  of gastrointestinal illnesses, lack water during the dry season, and have little knowledge of sanitation. Many children and mothers travel to the nearby river, several times a day, to gather water in buckets to take back home for cooking or other daily use.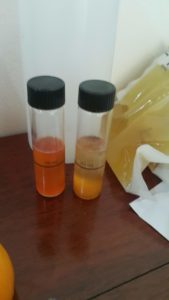 Team members also hiked throughout most of the community, locating as many water sources as they could. The final count was approximately 20 to 30 different water sources; springs, wells, and surface runoff. Some of these sources were tested for E.Coli, total coliform, pesticides, pH, hardness, chlorine, others (pool test strips). All samples were contaminated, although, may need further testing.
Conclusion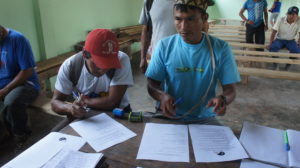 Based on our assessments, clean water and education on sanitation are the primary needs of Shiringamazu, sequentially, this project's completion will ensure a safe, clean water supply in our community, providing for greater access and treatment, safeguarding these water sources, and, potentially, an expansion of clean water system to the remote areas of the community.
After the first assessment trip, we are ambitious in our efforts to advance with this new project. A partnership agreement was signed between EWB DC, Peru, the community of Shiringamazu – Pueblo Libre, and Reach Global. Ultimately, EWB DC, Peru, counting outside donors, can help empower this community with the tools they need to attain their goal of a clean water system. If you would like to help support our efforts, please consider making a donation for a cause today. Donate Here