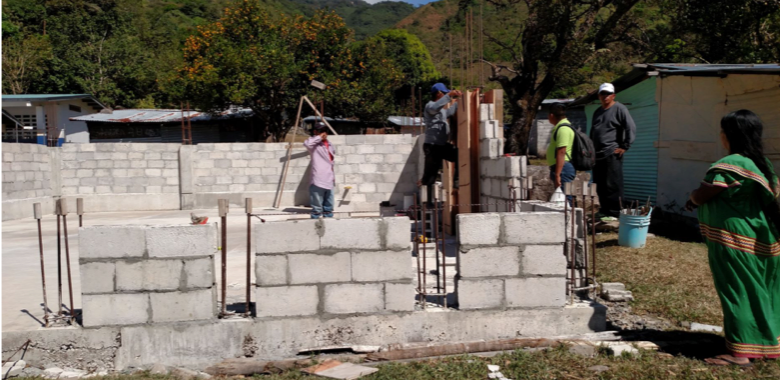 Support the Panama Program Reach Implementation Milestones this Summer
April 22, 2019

Created By:

Categories:

Tags:
This June, the Panama program will send a team of travelers to Hato Rincón to continue work on our CREER project and make major strides on implementation. CREER, meaning "to believe" in Spanish, is an acronym for "Centro de Recursos Educativos En Rincón," or "Center for Educational Resources in Rincón." Through this program we are working with the community to build a community center and library in the town that will provide a meeting space, educational tools such as books and laptops, and a workspace for children to study and complete homework. On a trip last summer, our team began implementation on the project, laying down the concrete slab foundation and beginning the wall construction. Throughout the year since that trip, members of the community have successfully continued construction and have completed the walls to more than half of their total height. This summer, we will send four groups of volunteers to Hato Rincon, spanning four weeks total. In that time, we intend to complete construction of the walls and roof.

This trip will involve high material cost, so if you are interested in supporting us and our work with the community, please consider donating or coming out to one of our upcoming events! We have two fundraisers planned to help us meet our financial goal for this project.

On May 23rd, join us for our Panama Night event in Adams Morgan to kick-off the Memorial Day Weekend. The event will be held at the Festival Center in Adams Morgan with Panamanian hors d'oeuvres catered by Esencias Panameñas–the only Panamanian restaurant in DC! We are especially excited to announce we will be joined by Mr. Francisco Olivardía from the Panamanian Embassy, who will give a brief speech on the indigenous people of Panama. Stick around and head to Southern Hospitality afterwards for a happy hour they extended exclusively for our event!

We'll also be hosting Par for Panama on an upcoming date at Top Golf in Loudoun County, VA. You'll have the chance to join us from 11am-2pm for arcade style golfing and brunch! No golf experience necessary! We're working on finding a new date for this event, so be sure to check the Facebook event page for updated information!
Check the EWB-DC calendar for more information on upcoming events (including links to purchase tickets) and follow up on Instagram and Facebook for Chapter updates!