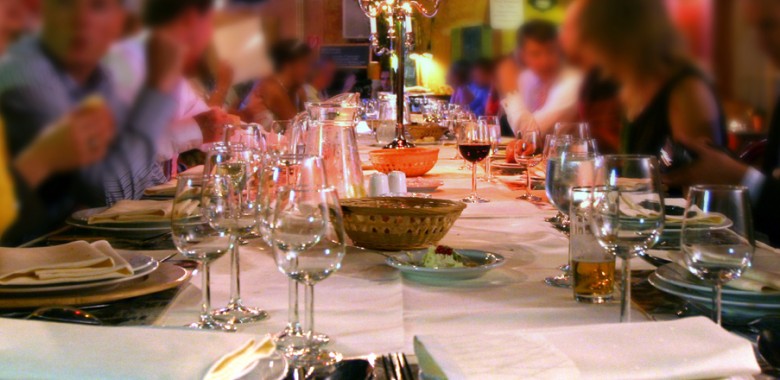 February 16, 2015 | Pop-Up Dinner Fundraiser at EatsPlace
January 23, 2015

Created By:

Categories:
Washington, DC – Tickets are now on sale for the Engineers Without Borders, DC Chapter's Dinner Fundraiser on February 16, 2015 at EatsPlace at 3607 Georgia Ave NW, Washington DC 20010.
With two seatings, 6:00pm and 8:30pm, guests will enjoy a three-course meal (vegetarian options available) while experiencing the uniqueness of a pop-up eatery and raising money to build clean water infrastructure in the remote community of Mbokop in northwest Cameroon.
Guest chef for the evening will be Edgar Steele.  While working under Jose Andres and Katsuya Fukushima, Edgar helped develop the creative culinary destination, the Minibar.  Under the direction of Edgar, dinner will be served by the DC Engineers Without Borders Volunteers.
The night's event will also feature a silent auction showcasing beautiful handicrafts from Cameroon brought back by EWB volunteers from previous implementation trips. The EWB team will provide project updates from the January 2015 implementation trip, where construction of the drinking water supply system was just kicked off! Project Co-Lead, Rachel Rath, comments on the team's excitement, "The EWB-DC team is looking forward to working alongside their in-country partners and community members to begin the next phase of the Mbokop Water and Health Project. After two assessment trips and more than a year of planning, the team is excited to begin implementing the drinking water system."
Tickets are $70 and include the three-course meal plus one glass of wine.  To purchase tickets please visit https://www.eventbrite.com/e/eatsplace-ewb-dc-cameroon-dinner-fundraiser-tickets-15406637668.
Engineers Without Borders is a non-profit humanitarian organization which partners with disadvantaged communities to improve their quality of life through environmentally and economically sustainable engineering projects.
For more information regarding the event, please contact Rachel Rath at cameroon@ewb-dc.org  or (202)957-0003.  For more information on EWB-DC, please contact the president, Jonathan Mead at president@ewb-dc.org or (917)676-8854.
For more information on the DC Professional Chapter of Engineers Without Borders, please visit: http://www.ewb-dc.org/
Download the press release here.