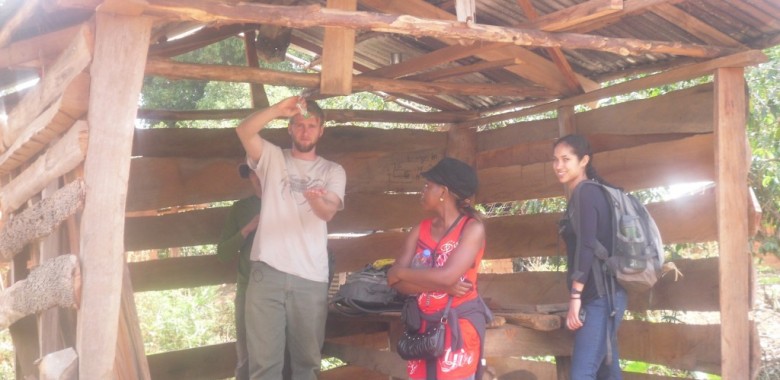 These are a few of our favorite things…
December 21, 2014

Created By:

Categories:

Tags:
Are you a last minute holiday shopper? Do you need a few gift ideas for your favorite EWB traveler? Are you an EWB traveler wondering what to squish in your bag and what to leave behind? Well, here is the EWB-DC Cameroon team's list of our "favorite things". This collection includes items past travelers found most valuable or wish they had brought with them. We would love to hear from you in the comments on your favorite things for your trips!
If you're like us, Amazon gets heavy use year-round, so please bookmark this link to help support our project. If you go to that link before you start shopping on Amazon, anything you order within 24 hours of going to that link will provide up to 6% of proceeds to our project—can giving get any simpler?!
Please join us in our own rendition of "My Favorite Things" and then keep reading to hear more from travelers:
Our Favorite Things
When we're in Mbokop we need to stay healthy
These are a few of our favorite things
Cold bucket showers or nothing but bath wipes
Staying hydrated and eating granola [bars]
These are a few of our favorite things
Dinner and card games are better with lanterns
Headlamps are useful for nighttime latrine trips
We cannot forget all the batteries
These are a few of our favorite things
Bring some Twizzlers
And some coffee
When we're in Mbokop
We simply rely on our favorite things
And then we are well prepared!
Most of the items that travelers mentioned were for keeping healthy, lighting the way, staying well-nourished and hydrated, getting a good night's sleep, staying powered up, and keeping clean.
Jonathan said he "never knew that I could take a full shower with about 7  liters of water! The collapsible bucket fit easily into my backpack and was perfect for toting water for washing." Lauren thought flip-flops and a thin wash cloth were "essential for the oh so glamorous bucket bath," and Ben wished he "had brought more baby wipes (in addition to the larger bath wipes). There are all kinds of uses for them."
Beside the team's focus on "glamorous" bucket baths, another area where travelers had favorite items were lighting. After all, without electricity, it's dark as soon as the sun sets. That doesn't stop the teams from working. Most nights there are more meetings, dinner, and sometimes card games after the sun goes down. Matt's favorite lighting item was a latern.
"It was useful at night sitting around and having some light. Even during late dinners at night it gave us a chance to hang up above everyone so no one had to worry about headlamps or flashlights. It takes a lot of batteries though so make sure there are enough. The woman we stayed with liked it so much she asked if she could keep it so it stayed there!" – Matt
There were two recommendations that surpassed an amazon wish list, but were too good not to share. Firstly, there is no substitute or purchase that can replace basic, good planning—on this note, our travelers recommend saving one clean outfit in a ziplock bag for your trip home. Lastly, make sure there is room in your pack for photos of community members from past trips–"the way they lit up when receiving a photo of themselves definitely made for some great moments," said Lisa.
And on that happy note…Happy Holidays, Happy New Year and Happy Shopping from the entire EWB-DC Cameroon Team!
Disclaimer: The items listed in this post are merely examples of personal favorites from past travelers and the authors and do not imply EWB endorsement of any specific product.