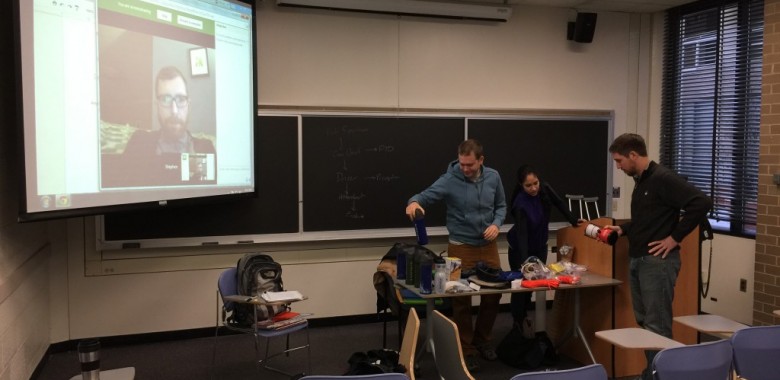 Implementation travelers are on their way!
January 17, 2015

Created By:

Categories:

Tags:
This evening, four travelers are departing for the first implementation trip. The travelers have layovers in Montreal and Paris before arriving in Doula, Cameroon tomorrow evening. The team will arrive in Mbokop on Monday after a 14 hour drive and one night's rest in Kumbo (more than halfway into the drive and where travelers will purchase supplies). By the time the EWB-DC team arrives in Mbokop they will be joined by partners from two in-country NGOs (HEDECS and SIRDEP), along with the local construction team and Peace Corps volunteers.
The four travelers are Ashley, Stephen, Gerritt, and Rob. Each of the travelers brings a unique set of skills and experience. We are thrilled to have this group of travelers and look forward to receiving updates on their hard work and adventures along the way. Continue reading to get to know them!
Ashley, the trip lead, has been involved with the Mbokop Water and Health Project since summer of 2012. She became the project co-lead in early 2014 and says "EWB has been an amazing opportunity for me to explore my passion for development and creating sustainable change." Ashley is working as a Systems Engineer in the aviation industry. Having traveled on the March 2013 assessment trip, Ashley is "looking forward to seeing the community members I met on Trip I, and forming new relationships with others. I'm also looking forward to amazing bananas and overindulging on granola bars." Having experienced the drive from Douala to Mbokop before, Ashley is nervous about the "2-day bumpy van rides on hand-dug roads."
Stephen, the trip's responsible Engineer in Charge (REIC),  joined EWB-DC at the inception of the project because he "wanted experience building water projects in developing countries." He traveled on the first assessment trip in March 2013 and is most excited for the avocados in Mbokop. He's most nervous that "since this is the first implementation trip the thing that makes me the most nervous is the competency of the local construction professionals and availability of materials." He works for a engineering firm in the water business group as a Project Manager specializing in the design of water and wastewater infrastructure.
Gerritt, one of the trip's Health and Safety Officers and "chief of bad jokes and awkward conversation," is one of two new travelers on the trip. Gerritt is a technology manager for the U.S. Department of Energy Wind and Water Power Technologies Office. He holds a PE license in civil engineering construction management. In addition to EWB, Gerritt spends his free time running, playing guitar, or traveling with friends and family. He lives in DC with his wife, Melanie. After landing in Africa he will have been to six continents. He has no plans to go to Antarctica. Gerritt joined EWB because he "was looking for a new volunteer opportunity, and EWB seemed like a good way to use my engineering experience to help other people." He's looking forward to "digging holes, building stuff, playing in the dirt."
Rob, the second Health and Safety Officer and primary NGO liaison for the trip, has been involved with the project for about a year and a half. Rob's background is in industrial engineering and sustainability. He was a member of his college EWB chapter. This is his first trip with EWB and his first trip to Africa. He is looking forward to "the challenge of interacting productively and harmoniously with the community members." It's also what he is most nervous about!
Continue to check the blog over the next two weeks to stay up-to-date on trip progress!