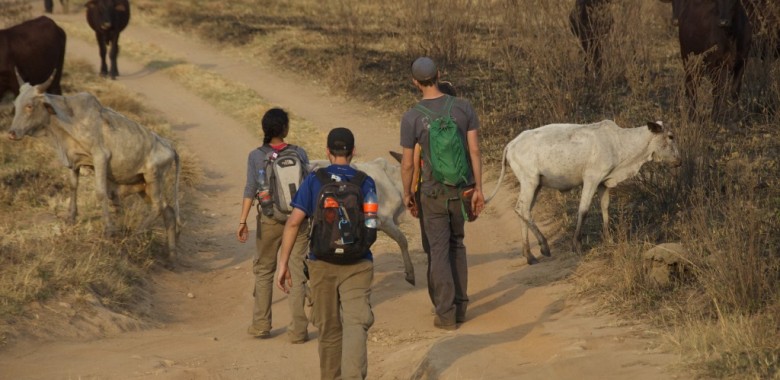 Cheers to a successful first implementation trip!
February 25, 2015

Created By:

Categories:

Tags:
At the end of January, we welcomed back our first implementation travel team–Ashley, Rob, Gerritt, and Stephen! Rob and Gerritt were new travelers, while Ashley and Stephen had been to Mbokop on the first assessment trip.
The team spent long days working hard with in-country partners from Peace Corps, HEDECS, and SIRDEP along with the local construction manager and Mbokop community members. On most days, Stephen and Gerritt spearheaded work on the spring box and construction site, while Ashley and Rob tackled community capacity building and community engagement.
As the new travelers, Gerritt and Rob had fresh perspectives of Mbokop. One of Gerritt's favorite parts of the trip was "hiking back to our village at the end of each workday. We were working about two miles uphill from where we stayed, and every night we got to hike the two miles back downhill, with the setting sun at our backs, tired from a long day of hard work, and knowing there was a bucket bath waiting for us at the end of the road."
This trip had a large amount of support from in-country partners. Ashley, the trip lead, said "our in-country partners were an amazing asset to the team. Our Cameroonian NGO partners, SIRDEP and HEDECS, sent highly qualified translators and technical support. Their knowledge of local customs and Mbokop allowed us to effectively work and communicate. On this trip, we also supplemented our NGO partners with the help of several Peace Corps Volunteers. Elise, Kathy, and Cait were a huge help to our team, and we are looking forward to working with them on future trips!"  As Gerritt says, "We were lucky to have very knowledgeable and experienced partners working with our team. They served as our guides, translators, mentors, construction managers, laborers, diplomats, counselors, pastors, dance instructors, and friends."
The team had tremendous accomplishments during their short, two-week trip to Mbokop. In Gerritt's words, "we made a lot of progress on constructing the spring box and collection dam, digging ditches, and planning our catchment protection fence. We also got some good face time with many of the leaders of Mbokop, helping them plan for the operation and maintenance of the water system and getting their input to our project plans." Rob adds that, "we also were able to inform the water committee on our staged implementation plan. The water committee reconstituted the caretaker committee. The water committee is actively collecting money and will continue to do so. Local fundraising is hitting its targets for the implementation of the project."
Since the team has arrived home, the local construction manager has completed the spring box and the collection dam!
Our next implementation trip leaves in less than two weeks! Check back to meet the next group of travelers and learn the scope of their trip. Until then, enjoy some pictures from the first implementation trip!
This slideshow requires JavaScript.