The EWB-DC Project Process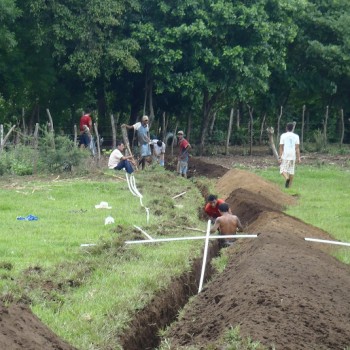 There are seven types of projects that EWB chapters undertake:
Water Supply, Sanitation, Civil Works, Structures, Energy, Agriculture,
and
Information Systems
. Each project undertaken by an EWB chapter follows the same policies and procedures that are set by EWB-USA.
1. Initiation: Each project is initiated long before a chapter can begin any work. Applications for prospective projects are submitted to EWB-USA by a representative from a community-based organization that acts as the primary partner for the program as well as the main point of contact between the community and the chapter.
EWB-USA reviews and assesses applications submitted on behalf of communities interested in hosting an EWB project, and eligible projects are then made available to EWB's chapters.
Chapters interested in working on a project must submit their own application to EWB-USA, which then awards permission to a single chapter.
2. Assessment: Once a chapter is awarded a project, the team undertakes an assessment of various aspects of the project including community demographics and health metrics, existing and desired infrastructure, and all the technical data necessary to inform the design of a sustainable solution.
This phase involves extensive research conducted both at home and in-country, and allows the team to gain a personal understanding of the needs and expectations of the community related to the proposed project, and serves as a capacity building opportunity. Often more than one trip to the community is required in order to adequately inform future project activities.
3. Design: During this phase, chapter teams must undergo detailed planning, including an alternatives analysis that allows them to carefully weigh the pros and cons of various options for achieving the project objective.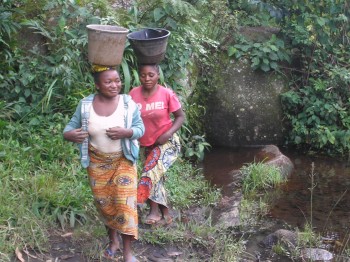 Once the preferred alternative has been selected in consultation with the partner community as well as EWB-USA, the chapter team works on creating a design and plan for how the project will be implemented. This in turn must be reviewed by EWB-USA and a panel of licensed engineers, often resulting in changes or suggestions that must be incorporated before the final design can be approved.
It is also during this time that teams consider the metrics they would like to measure to assess the project's impact after implementation is complete.
4. Implementation: This phase often occurs over the course of several trips to the community, during which team members will work in cooperation with the community members and partners to build the project.
5. Monitoring & Evaluation: As a part of EWB-USA's mandatory five year project commitment, after project implementation is complete, teams continue to work with the community to ensure that that intervention put in place is functioning properly and serving the purpose for which it was intended.
In order to do this, teams may travel to the community to assess the completed project once a specified period has lapsed since completion. During these visits, they will collect data on the metrics set out during the design phase and analyze the data in comparison to a baseline set prior to implementation.
Current EWB-DC Projects
Cameroon Project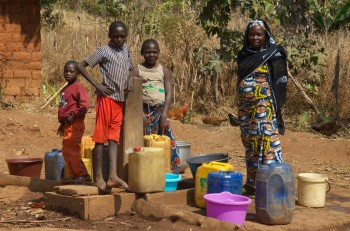 Cameroon Water and Health Project- Mbokop, Cameroon – Nestled in the mountains of the Cameroon's Northwest region, the rural village of Mbokop is home to roughly 2,200 people from three primary tribes speaking three main languages, and following two major religions. The population of Mbokop is spread across five settlements. This diverse community primarily supports itself through subsistence farming and herding livestock, but lacks basic services such as safe drinking water, proper…
Learn More.
El Salvador Project
Cantón Santa Clara, El Salvador, is a rural community comprised of approximately 400 households. The majority of community members live in poverty, engaging primarily in subsistence farming, growing corn, beans, and some livestock. EWB-DC began engaging this community in 2004 to install an improved drinking water supply system. At the time, most residents relied on shallow wells… Learn More.
Panama Project
One of the most impoverished indigenous groups in Central America, the Ngobe-Bugle live in remote mountain communities throughout Western Panama. Because the Ngobe-Bugle have historically been marginalized, they lack basic infrastructure and have few planned development projects. Moreover, economic, environmental, and political pressures have eroded their indigenous way of life. The unique Ngobe-Bugle culture… Learn More.
Completed EWB-DC Projects
San Antonio de la Libertad, Honduras
San Antonio de la Libertad (approx. pop. 800) is a rural community located about two and a half hours from the city of Comayagua in central Honduras.  Resources in San Antonio de la Libertad are very limited: the community has no electricity.
Only a handful of homes had access to water, piped through many miles of hose, and none of the water used by the households was treated. This led to very high mortality rates from water borne pathogens and other illnesses. Six children under the age of one die on average each year, and an estimated two women die giving child birth in their homes each year as well.
The need expressed in this community was for the construction of a water system providing water from a creek in the highlands above the community. Through a partnership with the Virginia Hospital Center Medical Brigade, the land containing the water source was acquired to act as the starting point for creation of San Antonio de la Libertad's water system.
EWB-DC team completed a technical assessment and preliminary design for the water system, which was later handed over to local engineers. Recognizing the direct link between potable water, hygienic practices, and improved health outcomes, the project team assessed the public health need within the community and worked to reduce the community's health burdens associated with the exposure to pathogens and toxins.
Valle Bonita, Honduras
Valle Bonito (approx. pop. 2,000) is a rural community located approximately a two-hour drive from the city of Comayagua in central Honduras.
Water sources within Valle Bonito were limited, and required improvement, as well as an additional water system to provide adequate water to the community. Due to the limited and untreated water supply, waterborne illnesses were common. Furthermore, the current supply was contaminated with pesticides, which further contributed to illness.
The project was divided in two phases: the first phase consisted of the rehabilitation of an existing system; the second phase consisted of the expansion of the system to ensure that all communities have fair, safe, and adequate access to household water.
System design and construction were closely tied to efforts to educate the community on sound water management, and the link between potable water, hygiene, and health effects.