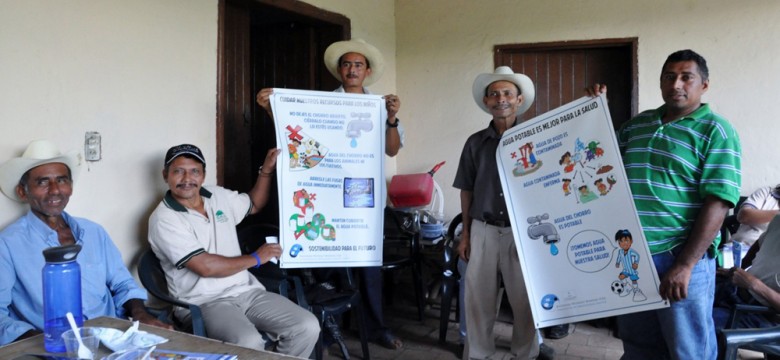 Cantón Santa Clara, El Salvador, is a rural community comprised of approximately 400 households. The majority of community members live in poverty, engaging primarily in subsistence farming, growing corn, beans, and some livestock.
EWB-DC began engaging this community in 2004 to install an improved drinking water supply system. At the time, most residents relied on shallow wells to supply water for their households. These wells were vulnerable to contamination, which resulted in a high incidence of waterborne diseases and parasites in the community. Over the following years, EWB-DC volunteers and their partners (including Catholic University, George Washington University, Peace Corps, Rotary International, and the local community development organization, ADESCO) performed site assessments and implemented construction of water treatment, water distribution, and greywater disposal systems. In 2012, the drinking water system was completed, with an initial distribution network reaching over 200 households in the community.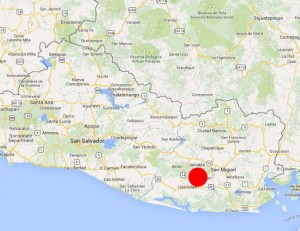 In addition to providing technical assistance, EWB-DC trained a community health promoter to educate the community on the use of the system, as well as a water oversight board to continue financing, overseeing, and maintaining the system. While the community has taken ownership over the water system, EWB-DC continues to follow-up with consultation and education of the health promoter and water board.
In 2013, based on feedback from community members, EWB-DC expanded its partnership with Santa Clara to explore alternative cookstove technologies. These technologies are designed to reduce wood use and indoor air emissions from traditional cooking methods. Most kitchens in Santa Clara are indoors and women cook over an open fire, without any chimney to direct smoke outside the house. This has led to high rates of respiratory problems resulting from nuisance smoke, as well as advanced deforestation as community members go further and further afield in search of wood for cooking fires. Initial assessment trips identified the community's need as well as resources that could be used for alternative designs. Currently, EWB-DC is developing and testing prototype alternative designs with partners at Montgomery College, the most promising of which will be brought to Santa Clara for community feedback.
El Salvador Project Leads
Contact Info: santaclara@ewb-dc.org
Project Reporting: 522 Post Assessment Report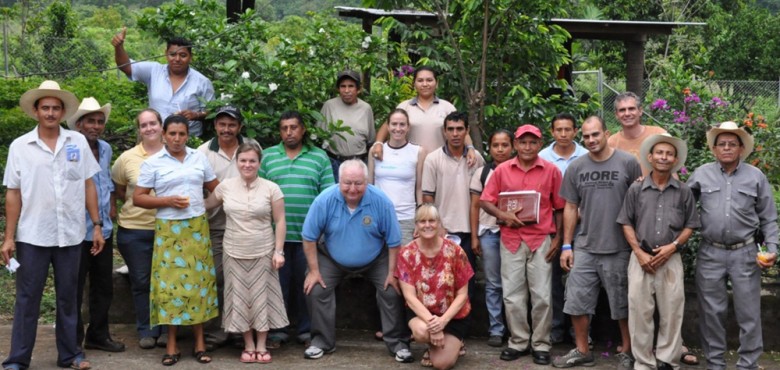 Briana Obenhuber graduated with a bachelor of chemical engineering from Auburn University in 2011. In college, Briana worked as an intern in the paper industry. Her primary focus was to optimize the collection of natural fuel generated from anaerobic digesters in the mill's waste water treatment system. After her undergraduate education, Briana was employed to help to build new waste water systems for clients around the world. She is currently pursuing a MS in Chemical Engineering from North Carolina State University.
While at Auburn, she was introduced to Engineers without Borders through the university's student chapter. She was part of Auburn's first travel team and went to Quesimpuco, Bolivia to connect with the community, assess future projects, and install a solar shower. This experience sparked in her a passion for the mission of Engineers without Borders, and she is excited to further the projects in El Salvador.
Gabriel Illingworth joined EWB in February 2015 and is a co-lead for the El Salvador Project. Mr. Illingworth earned a BS in Environmental Engineering from the California Polytechnic State University in San Luis Obispo and is currently serving as the Environmental Manager to a heavy-civil construction project in Washington, DC. Since joining EWB, Mr. Illingworth looks forward to learning from other EWB members and providing technical support to meet the project community's needs.
Eric Liang is an environmental engineer with an MS in environmental engineering and has been involved in Engineers without Borders on and off for the last 5 years. He joined the El Salvador and Cameroon project in late 2014. In his professional role, he is an engineering consultant working in the wastewater industry in the Mid-Atlantic region.