Engineers Without Borders – USA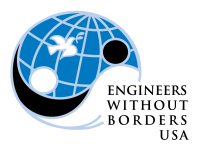 EWB-USA is a non-profit humanitarian organization that collaborates with community partners to design and build sustainable engineering projects. Our projects are implemented through a community-driven model based on full partnership with host communities. EWB-USA chapters make a minimum five-year commitment to work with the community, including continual monitoring and an evaluation at least one year after completing the project.
EWB-USA's projects span 47 countries on five continents. Since its incorporation in 2002, EWB-USA has grown from a handful of passionate individuals to an organization of more than 14,700 members. Through programs similar to our founding program in Belize, EWB-USA members have impacted more than 2.5 million lives around the world.
EWB-USA's national office is based in Denver, CO. Learn more at www.ewb-usa.org.
Engineers Without Borders – Washington DC Professional Chapter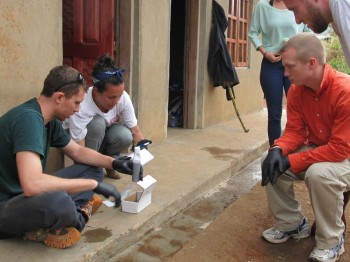 EWB-DC spreads both the vision and the mission of EWB-USA by partnering with disadvantaged communities to improve their quality of life through environmentally and economically sustainable engineering projects. EWB-DC engages developing communities in resolving particular infrastructure needs that the community itself has identified. Projects include but are not limited to the design and construction of water distribution, waste-water treatment, sanitation, energy, and shelter systems. The overall objective of every project is to incorporate and train the community in all phases of the sustainable projects to ensure ownership, appropriateness and long-term effectiveness.
EWB involves professionals and students from a variety of professions including engineering, public health, anthropology, geology, business, communications, and graphic design. EWB-DC works together with EWB Student Chapters at Howard University, The George Washington University, and Catholic University to improve the quality of life in partner communities worldwide. Students are involved in every step of the process, enabling them to learn firsthand about solutions to the problems of the developing world.
Learn about Our Chapter Leadership!
Recognition for EWB-DC:
Each year the EWB-USA Premier Chapter Awards recognize outstanding EWB-USA student and professional chapters that meet the ideals of a successful EWB-USA chapter. These ideals include excellence in organization, fundraising and public relations, engagement in mentor/mentee relationship and chapter and regional participation.
EWB-DC is very proud to have been recognized twice as the Southeast Regional Premier Professional Chapter for 2013/2014 and for 2014/2015.
We are immensely excited to have been recognized as the National Premier Professional Chapter in 2015.